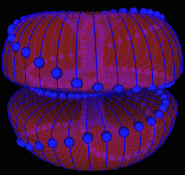 Representation of how mass affects space-time. Note the clocks as nodes [source and author: https://t.co/IxD0PQFjFl] [Works of the author on @Wikipedia: https://t.co/JkYKZQiIK5] pic.twitter.com/of0OWdhsFs

— Massimo (@Rainmaker1973) September 15, 2018
Romans 1:20  For since the creation of the world His invisible attributes, His eternal power and divine nature, have been clearly seen, being understood through what has been made, so that they are without excuse.
Acts 17:29  Being then the children of God, we ought not to think that the Divine Nature is like gold or silver or stone, an image formed by the art and thought of man.
John 14:19  "After a little while the world will no longer see Me, but you will see Me; because I live, you will live also."   20 "In that day you will know that I am in My Father, and you in Me, and I in you."