on Earth
Job 38:22  Have you entered the storehouses of the snow, Or have you seen the storehouses of the hail, 23  Which I have reserved for the time of distress, For the day of war and battle?
Hazır mısın İstanbul? #Dolu pic.twitter.com/RCqQiYSz3c

— Enezteresan (@enezresmi) June 26, 2018
This is still one of the most stunning videos of a funnel cloud and tornado formation, captured by Alonso Holguin on May 30, 2017 in Chihuahua, Mexico https://t.co/m1Ri7VM3dN pic.twitter.com/g5eacONN3v

— Massimo (@Rainmaker1973) August 8, 2020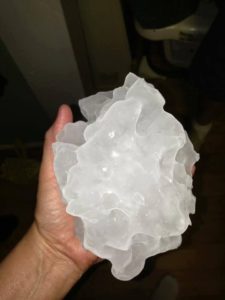 Revelation 16:21  And huge hailstones, about a hundred pounds each, rained down on them from above. And men cursed God for the plague of hail, because it was so horrendous.
https://twitter.com/Havenlust/status/1003947117285707776
https://twitter.com/Havenlust/status/1139899806955032579
This short timelapse brilliantly shows the phases of the formation of a tornado: it was taken by stormchaser James Hammet 8 miles north of Laramie, Wyoming on June 6, 2018 [full video: https://t.co/bBrRZQ4QWS] pic.twitter.com/Wl8RGg760w

— Massimo (@Rainmaker1973) June 12, 2018
This gif blew me away pic.twitter.com/M6wWxMQb6c

— Xavier Katana (@xavierkatana) December 26, 2017
Revelation 21:6  And He told me, "It is done! I am the Alpha and the Omega, the Beginning and the End. To the thirsty I will give freely from the spring of the water of life.